3 comments posted by legofish at 12:33 PM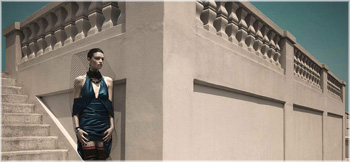 I've always thought of Fashion Photography as the absolute best job in the world. If I had another chance, that was the career I would have pursued. But Iran-born Max Abadian doesn't need another chance, as he is already living the dream.
I just stumbled upon his website by luck, and I was awed by the beautiful pictures in his portfolio. There's little about him other than this short blurb : "Born in Iran and raised in Germany, Max Abadian studied at Dawson's Institute of Photography. A prestigious fashion and advertising photographer, he raises interest on an international scale. Max has an irresistible way of creating a captivating atmosphere. He seduces the eye with the unequivocal beauty of his work. "
He has photographed celebrities Gwen Steffani, Avril Lavigne, Elisha Cuthbert, and Nelly Furtado, to name a few. But don't take my word for it, head over and check out his portfolio.