6 comments posted by legofish at 11:07 AM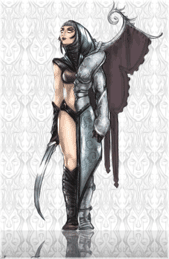 Sorry for the delay in updating here, I was on vacation. But now I'm back and the updates will resume.
I'm spotlighting Shervin Bahri. This 22-year old is clearly into fantasy art. There aren't many pieces in his portfolio yet but the ones he have there show his great form. I'm certainly putting him on my watchlist. While you're in DeviantArt, check out Hamed Talebani's updated gallery as well, he has added some nice new art.