7 comments posted by legofish at 02:04 PM
I've breifly mentioned Rostam Comics in the past, but it definitely deserves its own post. Utilizing the comic-friendly stories of the Shah Nameh (see previous post), a team of LA entrepreneurs (Bruce Bahmani, Jamie Douraghy, and Cameron Douraghy) started a few years ago what is the first (and still, the only) action-hero comic book with Persian heros.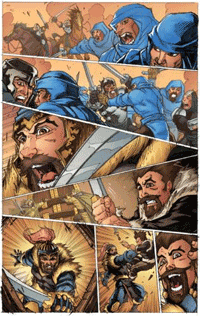 I am extremely picky when it comes to comics and there are only about a handful of comic artists in the wolrd whose work I fancy. I admit when I first saw images from the first Rostam comic a few years ago, I was a bit underwhelmed by the quality of the art. I was also disappointed that none of the artists working on the project came from a Persian background.
But it was only after I talked with Cameron last month that I truly realized the great value of these comics. It is easy to sit and pass judgement on some comic screenshots, but when you consider the huge financial burden of producing a comic book, the immense difficulty of finding Persian comic artists who would be willing to take on a huge project such as this, and the generally indifferent attitude of the Persian community towards comics, you realize that this project is to be supported and commended.
Besides that, having bought both comics (there are currently two issues available) and having seen them up close, I was delighted to see the major improvement in all aspects of the second comic compared to the first one (most notably in the area of coloring). I have no doubt that the third issue, which is to be released very soon, will be even better than the second and I can't wait to buy it when it comes out.