posted by legofish at 10:16 PM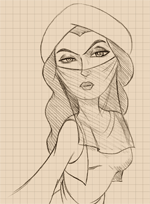 Today I accidentally came across yet another Persian-inspired animation project. The Fire of Love is a 2D animation series based on Rumi's poems. The project (apparently initiated by the London Academy of Iranian Studies) has a small website with a section that looks like a preliminary proposal/pitch for the series, as well as a nice little test movie. The animation looks disney-esque, and I do like the character models.
This is definitely a project I will be closely following with great interest.